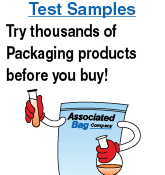 The Associated Bag Company has free test samples of their products. Here is what is stated on their website, "Take the "guesswork" out of finding the right products you need by using our Free Samples Program. As you browse our large selection of products, you'll find that free samples can be readily added to your shopping bag. Simply proceed through the checkout process to submit your request for free samples.
Sign In to your account, because customers who've ordered from us before will be allowed to request more samples than those who are first time visitors. We reserve the right to limit or restrict sample quantities and to act as needed to prevent improper usage of our free samples program."
I plan to do this but it's going to take me awhile to figure out what I would like to try since there is so many to choose. I'm not good with making decisions at times. It looks like you have to sign up with a password in order to do this.
So click
here
if you'd like to request their free test samples. I'd be curious as to what you choose and why if you feel like commenting in the comments section.