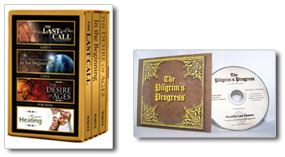 I requested this free gift January 31st but wanted to see it before I posted about it because I wanted to see how good of quality it was. Well, I just received it and it came in very nice quality. World's Last Chance has a nice gift they would like to send you completely free. This is a four volume book set. Mine also came with a CD called The Pilgrim's Progress.
Their website does a very nice job of giving you a detailed explanation of each book in the set so go
here
to read about this gift set if you are interested in requesting this. In order to request this offer you do have to register on their site with a password. This is an international order and you books may take up to 12 weeks to arrive. You will receive an email from them when your books are sent out.