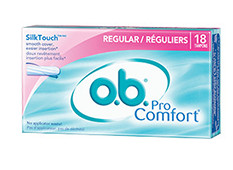 Try
o.b. PRO COMFORT Regular tampons
with Fluid-Lock grooves for leak protection. They are the only tampon with a SilkTouch cover for ultimate comfort and protection.
This isn't a topic I enjoy talking about so I'll be brief in this review.
o.b. PRO COMFORT regular tampons
are comfortable tampons to wear once you get used to inserting them in. They do not have an applicator which makes them nice and compact. They are very discreet which is wonderful about them. The picture above shows the size of a normal size box which contains 18 tampons! There is one drawback to not having an applicator though. The drawback is that you have to be comfortable inserting them inside your body. However, once inserted properly they are comfortable and you won't even feel it. One thing I want to point out which may be obvious but still is important. Don't forget to let the string go loose. Otherwise, well, you get the idea. Anyway, I didn't have any leaks which these with is great and very important to me. I will continue to use these but honestly, I prefer a different form of feminine protection but at least it's a great alternative!
If you'd like to learn more about o.b. PRO COMFORT regular tampons and any of the other products o.b. tampons makes, you can visit the
o.b tampons website
. You can also
"like" The o.b. Brand on Facebook
and
follow them on Google+
.
Disclaimer: I am a member of Crowdtap and received three o.b. PRO COMFORT regular tampons (18 count) and three o.b. carrying cases to help me write this review. The opinions in this post are my own and not influenced in any way. Your experience with the product may be different than mine.