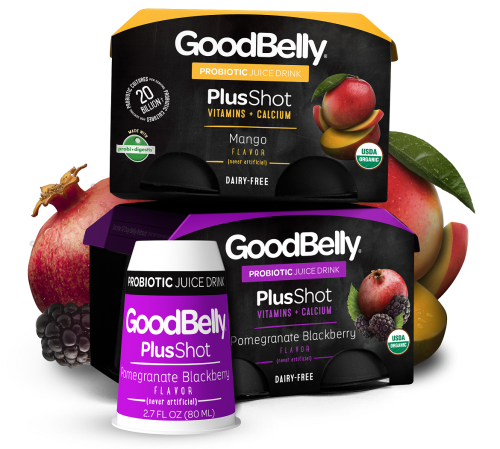 GoodHealth starts with a
GoodBelly
!
Get billions of belly-balancing probiotics that you need to maintain a healthy digestive system - in one delicious shot. Did you know 70% of your immune system lives in your gut? All the more reason to treat it well. The exclusive probiotic in GoodBelly, called Lactobacillus plantarum 299V (LP299V), is great for all kinds of reasons. The PlusShot is a concentrated shot that combines your daily dose of probiotics and vitamins in your choice of 4 deliciously fruity flavors. If you're looking for a more gently flavored option, try the GoodBelly StraightShot. It's made with dairy-free oat milk, with no sugar added.
GoodBelly
is a non-GMO, dairy-free, soy-free, vegan and kosher probiotic drink that comes in a bunch of yummy flavors. GoodBelly comes in Cartons, StraightShot, PlusShot, SuperShot, and Supplements.
Here are some highlights about GoodBelly:
- 5 delicious flavors: Pomegranate Blackberry, Strawberry, Blueberry Acai, Mango, and Plain.
- May help promote healthy digestion.
- 20 billion live and active probiotics/serving.
- Well-studied and effective probiotic strain, LP299V.
It's been a while since I last tried out
GoodBelly
because is wasn't easy to find where I used to live. Plus it was rather expensive. So when I got the opportunity to try GoodBelly again I was excited. The GoodBelly product I tried out was a carton of Blueberry Acai. I like blueberries and am not real familiar with acai so I was unsure if I'd like this flavor. However, after one sip, I wanted more. GoodBelly Bluebery Acai tastes really good. It has a nice fruity taste to it. I love how GoodBelly contains active probiotics for good digestion.
If you'd like to learn more about GoodBelly, you can visit the
GoodBelly website
. You can also follow them on
Facebook
,
Twitter
,
Instagram
, and
Pinterest
.
Disclaimer: I am a member of SocialNature and was given a GoodBelly package (Free product coupon for GoodBelly Carton, PlusShot or StraightShot, recipe card, and sticker) to help me write this review. The opinions in this post are mine and not influenced in any way. Your experience with this product may be different than mine.