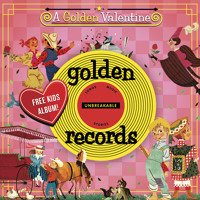 I wanted to share this again as Valentine's is soon approaching.
The Golden Records collection recaptures the nostalgic music of yesteryear, creating a collection of beloved instant classics for families to enjoy together. "A Golden Valentine" is a collection of 10 handpicked songs for children. It includes bonus performances from Busy Phillips, Cheryl Hines and Didi Conn.
Welcome to the magic of Golden Records, reimagined for the child in all of us!
The "A Golden Valentine" collection contains 10 selections for a total time of 20 minutes and 49 seconds. Listed below are the ten selections:
- The Muffin Man Starring Didi Conn
- Doggie In The Window
- Snow White And Rose Red Starring Cheryl Hines
- Down By The Station Be Yourself
- Funiculi, Funicula
- The Frog Princes Starring Busy Philipps
- Little White Duck
- The Magic Continues Vol. 1 Teaser
- See Ya Next Time On The Golden Playground
Right now you can download this cute music sampler from Golden Records. Just go
here
to listen to the wonderful selection online. Then you can download all of the songs. You'll have to download each song separately. Plus while you are listening and enjoying the music you can color this
cute picture
once you have printed it out. Below is a small image of the picture.